The Clerk of Court – Sherry M. Long
Sherry McFann Long was sworn into office on December 18, 2012 as the newly elected Clerk of Superior, State and Juvenile Courts. She is the first female clerk ever elected in the Clerk position since the formation of the county in 1921.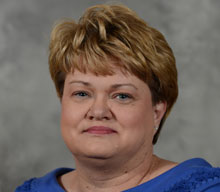 Sherry has been a resident of Long County for approximately 40 years. She is a 1980 graduate of Long County High School and is a member of Rye Patch Baptist Church. She is married to Kenny Long and they have two children, Clay Long and Kelly Long Simmons. She is the proud grandmother of three beautiful grandchildren, Lexi, Hali and Rhet.
Sherry enjoys playing the piano, singing, reading, traveling and spending time with her family.   Sherry enjoys working with the citizens of her county and is proud to call Long County her home. She is humbled by the opportunity to serve the constituents and has an open door anytime visitors come by her office.